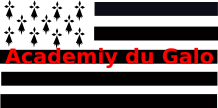 ACADEMIY DU GALO
Academy of Gallo
---
---
Introducing the Academy of Gallo
---
The Academy of Gallo is a pledge for the survival of Gallo. We want it dynamic and progressive.

In that respect, the use of digital tools along with a rational approach of the language is a huge step forward to see it adopted and recognised by the public.

We firmly believe that Gallo can become a communication language (again!) and that this website will play its part in this and will work towards developing its literature.