"Lez voteriys de Ghè"



by "Le Tonton a Jean des Landes"
The Gallo post:
The text is set in standardized Gallo and follows each fragment of the original 1923 text.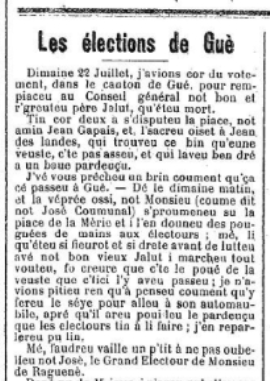 Lez voteriys de Ghè
Le dimaene 22 du mais de julhet, j'aviom core du votement, den le canton de Ghè, pour rempllacer ao Consaelh Jenerao notr bon e regretae pere Jalut, q'étaet mort.
Il taent core deuz a s'disputer la pllace, notr amin Jean Gapais, e le sacrae oêzèo a Jean dez landes, terouaet saeben q'un paletaod, ç'taet pas asset, e q'il avaet ben dreit a un biao mantèo.
J'vaez vouz preycher un brin coument qe ça c'ét passae a Ghè.
Dés le dimaene a matin, e la veyprey aossi, notr Monsieu (coume dit notr Jozè Coumunal) se pourmenaet sus la pllace de la Maereriy e il n'en dounaet dez pogneys de maens ez voêtouz; maez, li q'étaet si fieraod e si dreit avant qe de paisser decontr notr bon vieuz Jalut, il marchaet tout houtae, faot creire qe ç'taet le poêz du paletaod qe sti-ci li avaet passae; je n'aviom pitiae ren q'a chonjer coument q'il feraet le sair pour aler a son aoto, aprés q'il araet poulhae le mantèo qe lez voêtouz taent a li faere; j'en erparlerae pus lein.
Maez, faoraet vair un p'tit a ne pas omblir notr Jozè, le Grand Voêtouz de Monsieu de Ragenè.
Depeis pus de 15 journs, il n'avaet ombli sez chous, sez lizettes, memme sez beytes, li qi lez aeme tant; galopant a dreite, a gaoche pour baver sus Jean Gapais e sus les Republiqhaens, come il n'taet pas tenant poli; tout coume Daudet, il s'fezaet avieuter par fais, maez samedi ao sair, il taet ben sur li qe son Monsieu, alaet avair treiz cents voêz de majoritae. (Pôvr Jozè, il faet coume le pecaod qi vayaet un panaes pendu ao bout d'un bâton e qi galopaet san pouair l'aveder.) tu vaz t'essoufller, repoze tai un petit Jozè !
6 oures du sair, il vont qemencer a dépocher la boête eyou qe n'y a ûne melanjeriy de bllanc e de rouje.
Dame, lez Gapais ça chaeyaet dru, coume qi diraet la gerzilhe, jamaez en n'avaet veù choze coume ela a Ghè; falaet vair le naez q'il fezaent Ragenè e sez amins, maez falaet vair aossi la joey de presqe tous les votouz. Maez y avaet ce sacrae coupin de Jozè e 2 ou treiz de sez luraods qi menaent un brut a ren entendr e qi cerchaent chicane a tous lez sinceres republiqhaens.
Pôvr Jozè va, t'as étae remouchae a ste moment la par yun, un bon e nouz j'avom ben ri de tai, pourcai aossi qe tu li demandaet si falaet aler cercher le pecaod a M. B... ça rimaet a ren; il t'a reponu qe c'étaet pas la peine.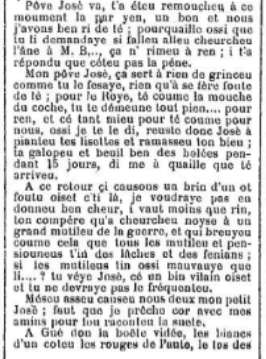 Mon pôvr Jozè, ça sert a ren de grincer coume tu le fezaes, ren q'a se faere foutr de tai; pour le Roê t'és coume la mouche du coche, tu te demenes tout pllein...pour ren, e c'ét tant mieuz pour tai coume pour nouz, aossi je te le diz, reste don Jozè a pllanter tez lizettes e ramasser ton bllae; t'a galopae e beù ben dez boleys pendant 15 journs, diz mai a cai qe t'és arrivae.
A ce retourn ci, caozom un brin d'un aotr foutu oêzèo sti-la, je vouraes pas en douner ben chier, il vaot meins qe ren, ton compere q'a cerchae noêze a un grand mutilae de la gherre, e qi braeyaet coume cela qe tous lez mutilaes e pensiounaes taent dez petaods e dez feniaces; si lez mutilaes taent aossi maovaez qe li... ?
Tu vais Jozè, c'ét un ben vilaen oêzèo e tu ne devraes pas le freqenter.
Maezei asset caozae nouz deuz mon petit Jozè; faot qe je preyche core cantë mez amins pour lour conter la sieute.
A Ghè don la boête dépochey, lez bllancs d'un côtae, lez roujes de l'aotr, le tas dez roujes ét ben pus épais, tout pllein de Gapais (vive Ghè, vive la Telhay, memme vive Saent-Rou).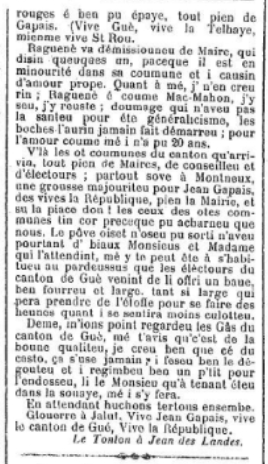 Ragenè va démissioner de Maere q'il dizaent qheuqes uns, pace qe il ét en minouritae den sa qemune e il caozaent d'amour propr. Cant a mai, j'n'en crei ren; Ragenè ét coume Mac-Mahon, j'y sei j'y reste; domaije q'il n'avaet pas la santae pour étr jénéralissime, lez boches l'araent jamaez faet démarrer; pour l'amour coume mai il n'a pus 20 ans.
V'la lez aotr qemunes du canton qu'arrivaent, tout pllein de Maeres, de consaelhers e de votouz; partout saof a Monteneu, ûne grosse majoritae pour Jean Gapais, dez vive la Republiqe, pllein la maereriy, e sus la pllace don ! Lez ceùz dez aotr qemunes taent core presqe pus achienaes qe nouz. Le pôvr oêzèo n'ozaet pus sortir, n'n avaet pâmeins de biaos Monsieus e Madame qi l'esperaent, maez il taet ventiers a s'abituer ao mantèo qe lez votouz du canton de Ghè venaent de li offrir un biao, ben fourae e larje, tant si larje q'il poura prendr de l'étofe pour se faere dez haenes cant il se sentira meins qhulotae.
Dame, il n'y ont point ergardae lez gârcs du canton de Ghè, m'ét aviz qe c'ét de la boune calitae, je crei ben qe c'ét du castor e il rejimbaet ben un petit pour l'endosser, li le Monsieu q'a tenant étae den la say, maez il s'y fera.
En attendant huchom tertous ensembl
Gloêre a Jalut, vive Jean Gapais, vive le canton de Ghè, vive la Republiqe
Le Tonton a Jean dez Landes